Hillsborough inquests: Fan stood on person to escape crush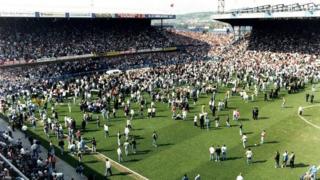 A survivor of the Hillsborough tragedy has told the inquests into the deaths of its victims how he stood on a person to escape the fatal crush.
Andrew Ashcroft recounted how he was caught up the confusion in pen four at the Leppings Lane end on 15 April 1989.
He described the "excruciating pain" as he was pinned against a crush barrier on the terraces.
Ninety-six fans died following a crush at the Liverpool v Nottingham Forest FA Cup semi-final in Sheffield.
Mr Ashcroft, who was 23 at the time, entered the ground through Gate C, an exit opened by the police to relieve congestion at the turnstiles.
He realised there was a "problem", within seconds of entering pen four.
"You had to make sure that your arms were alongside you because of fear of potentially cracking your ribs because the pressure was that much," he said.
Mr Ashcroft continued: "There was [sic] people getting pulled.... out and up in to the stand above by fans."
He experienced "intense pain" in his legs as he was crammed against the crush barrier opposite the tunnel.
"When I could get breath I was screaming for people to push back.
"Everybody around me was trying to help me and trying to push back and shouting and it just seemed to go on for quite some time."
The Liverpool fan ripped his jeans squeezing under the barrier and found himself with his back to the pitch being moved towards the front of the pen.
The coroner in Warrington heard how Mr Ashcroft and a friend realised: "We were going to die if we didn't get out.
"There was a gap in the fencing at the front and we earmarked that as the only way of getting out of the pen," he explained.
He became aware of standing on what he believed was a person as he pushed his way out of the pen.
"I had to stand on something and released that it was soft. Then I thought 'hold on, this is a person.'"
As he left the terraces he screamed to people around him there was somebody on the floor.
Encouraged to reach back down to drag the person up, he felt "everybody sort of filling on top of me."
Mr Ashcroft added: "I had to let go otherwise I would have joined him."
The inquests continue.