St Helens pub pair admit selling counterfeit alcohol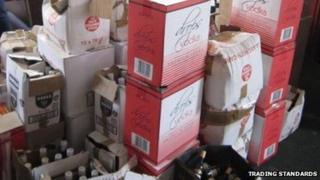 A St Helens pub landlady and her partner have been sentenced after selling drinks from bottles of alcohol deemed unsafe for human consumption.
Trading Standards found 950 bottles of counterfeit whisky and vodka connected to the White House pub. Over a third were "unsafe" to drink.
Barbara Gallimore, 71, and Cedrick Fitzpatrick, 65, admitted selling counterfeit alcohol at Liverpool Crown Court.
Fitzpatrick was jailed for nine months.
'Significant haul'
Gallimore, of Stirling Crescent, was given a six-month suspended jail sentence.
The Sutton Road pub has since closed down and the alcohol will be destroyed.
The court heard Fitzpatrick, of Morris Street, was effectively running the pub on behalf of his partner.
Fitzpatrick was previously convicted of allowing illegal gambling at the pub.
Darrell Wilson, from Trading Standards, said: "In the North West last year there were 2,000 litres seized by Trading Standards.
"We have 1,000 litres in one go here, so obviously it's a very significant haul."