HMS Plymouth heading from Birkenhead to be scrapped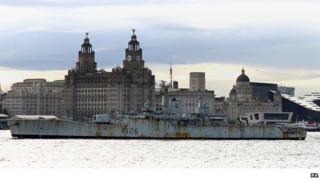 One of the last surviving warships from the Falklands War campaign has set sail to be scrapped in a foreign port.
The Royal Navy frigate HMS Plymouth was towed on the morning tide in the River Mersey despite a last ditch effort by campaigners to stop its departure.
The ship, on which the Argentinians surrendered following their invasion of South Georgia in the 1982 war, was decommissioned in 1988.
It is thought to be heading for a port in Turkey where she will be scrapped.
Campaigners had raised money to pursue legal action in a bid to prevent the ship leaving.
But Peel Ports, which owns Vittoria Dock in Birkenhead, where the ship was berthed for years, said it had "no practical choice but to dispose of her responsibly", but did not confirm the vessel's final destination.
'Historical significance'
The Historic Warships Preservation Trust originally rented a berth for HMS Plymouth in 1990 from the Mersey Docks and Harbour Company but when it went into liquidation in 2006 the ship became, by default, Peel's legal responsibility.
The firm said it understood Plymouth City Council attempted to buy the vessel for display in the city's docks in 2007 but this was abandoned when no suitable berth could be found.
A spokeswoman said it was, "very sympathetic" to the vessel's historical significance but no public or private body had a feasible plan to maintain, restore or remove it.
The 2,150 ton vessel, the last Rothesay class type 12 Frigate afloat, was launched on July 20, 1959 at Devonport Dockyard by Nancy, Viscount Astor and commissioned into the Royal Navy on 11 May 1961.
It was used in the Far East before the Falklands War in 1982.
Lt Commander Alfredo Astiz signed the surrender document in the wardroom of HMS Plymouth when the Argentinean garrison at Grytviken surrendered.