Southport teenager Rebecca Durkin killed 'cruel alcoholic' mother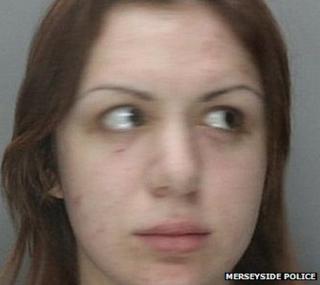 A teenager has been detained for smothering her alcoholic mother with a pillow at their Merseyside home.
Clancy Durkin, 55, was found dead at Guildford Road, Southport, in January.
Rebecca Durkin, 19, was cleared of murder by a jury at Liverpool Crown Court but she admitted manslaughter.
Sentencing her to four years and eight months at a youth offenders institution, Judge Clement Goldstone QC said she had suffered "long-term cruelty" at the hands of her mother.
"You did your best for each other, but you suffered long-term cruelty at her hands.
"Her addiction to alcohol clouded her judgement," Judge Goldstone, the Recorder of Liverpool, told her.
"You'd had enough and that is something you will have to live with for the rest of your life."
'Lost control'
During her trial, Rebecca Durkin said she had not intended to kill her mother but she lost control.
The Crown Prosecution (CPS) said Clancy had a "troubled relationship" with her daughter.
The two women argued frequently and Clancy told relatives she thought Rebecca was going to kill her, the CPS said.
It said her mother had called staff at Southport College, where her daughter was a student, claiming Rebecca had tried to smother her.
Rebecca confided in friends she had tried to kill her mother and had attempted suicide because of the problems she was having with her mother, the CPS said.
Claire Lindley, from the CPS, said: "This is a tragic case where alcohol has no doubt played a part in the relationship Rebecca had with her mother.
"Rebecca Durkin had been receiving counselling to help her with the relationship, but in January this year she took her mother's life and she must now come to terms with the consequences of that."
Det Ch Insp Dave Rooney said it was "a case with no winners".
"What was clear during the investigation, was that despite all the difficulties in her life, Clancy was a caring individual who gave a great deal to those around her.
"I know from my dealings with them, she will be sadly missed by her siblings, friends and work colleagues."