Liverpool City Council delays plan to shut 11 libraries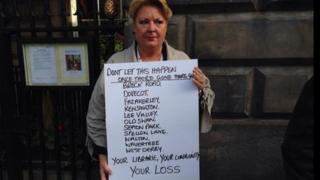 Plans to close 11 out of Liverpool's 19 public libraries have been put on hold following a cabinet meeting.
They were approved but Labour Mayor Joe Anderson said there would also be a four-week consultation. over the scheme to save £2.5m in three years.
Protesters lobbied the cabinet meeting with a 10,000-signature petition handed in by children's author Alan Gibbons.
Green Party councillors had warned Mr Anderson that the decision needed more scrutiny.
Mr Gibbons said he did not want the former City of Culture to become a "City of Philistinism" and a "cultural wasteland".
'Opportunism claim'
The council is looking to save £2.5m from the city council's library budget over three years.
The libraries at risk are Breck Road, Dovecot, Fazakerley, Kensington, Lee Valley, Old Swan, Sefton Park, Spellow, Walton, Wavertree and West Derby.
Mr Anderson said it was hoped some community groups would be able to run the libraries.
"Doing nothing is not an option," said Mr Anderson.
Green Party leader John Coyne said: "The Green Party put forward a plan to save all the libraries when the budget was set, which was rejected by the Labour party. Some of the money we wanted to use is still available, so some of the libraries can still be saved.
Mr Anderson accused the Greens of opportunism.