Liverpool Anglican and RC cathedral deans' 'leap of faith'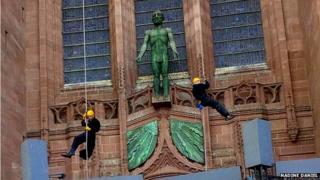 The men in charge of Liverpool's two cathedrals have abseiled down the city's Anglican cathedral, to raise money for charity.
Cathedral Dean Rev Peter Wilcox and his Roman Catholic counterpart, Father Anthony O'Brien, joined an abseil down the cathedral on Saturday.
As part of a two-weekend event, the 150 ft (45m) leap has helped to raise about £48,000 for the cathedral,
Thanking those who sponsored him, Rev Wilcox tweeted: "Huge fun actually."
More than 400 people have taken part in the abseil event over the past two weekends.
Money has also been raised for individual charities, nominated by the other abseilers.
The event had a World War One theme, to mark the anniversary of the start of the Great War.