Witness tells of 'explosions' at Huyton pallet yard fire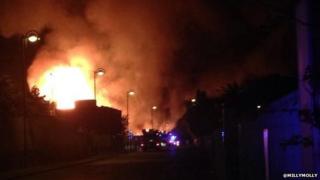 About 40 firefighters have been dealing with a blaze at a pallet yard in Merseyside.
Sixty-three emergency calls from the public were made about the fire in Ellis Ashton Street on the Huyton Business Park.
The fire broke out just before midnight, Merseyside Fire and Rescue Service said.
One witness reported on Twitter that she heard "huge explosions" but there are no reports of injuries.