Liverpool Pride: Hundreds take part in city march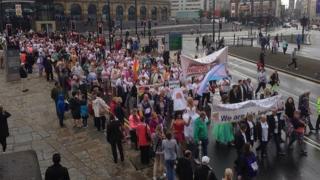 Hundreds have taken part in Liverpool's Pride march as part of the city's annual celebration of lesbian, gay, bisexual and transgender culture.
Liverpool Pride, which organisers say is "the largest single day Pride event in the UK", began in 2010.
It is held on the anniversary of the death of Michael Causer, who was the victim of a homophobic attack in 2008.
The march took place ahead of the festival, which saw performances from Katy B and Heather Small.
The festival, which attracted 65,000 people in 2013, was held across stages on the waterfront and in the Stanley Street quarter of the city.
Lucy Day, chair of the Liverpool Pride charity said the march would be followed by a "big celebration of LGBT culture in the heart of the LGBT Liverpool community".
Other performers at the event, which has the theme of Glam Fairy Tales, included 80s stars Sam Fox and Sonia, local boyband Mic Lowry and the cast of the musical Wicked.