St George's Hall reveals Victorian Minton tiles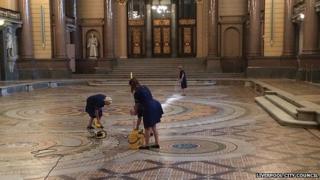 Liverpool City Council hopes "as many people as possible" visit a hall to see a set of Victorian floor tiles.
The Minton tiles in St George's Hall are usually covered to protect them from damage but are revealed to the public annually.
The flooring has been removed to allow the tiles, laid in 1852, to be seen for two weeks until 13 August.
The handcrafted mosaic of more than 30,000 tiles was covered in the 1860s to allow dancing and events.
The tiles were handmade at Minton Hollins' factory in Stoke-on-Trent. The firm also tiled the floor of the US Capitol Building in Washington.
Many of the tiles depict the Liver Bird, with other featuring the Roman god Neptune, sea nymphs, dolphins and tridents.
The city's Lord Mayor Erica Kemp said the annual reveal "never fails to attract a huge response from visitors".
"I hope that this year proves to be just as successful," she said.