Liverpool Giants: Marionettes sail away in river boat finale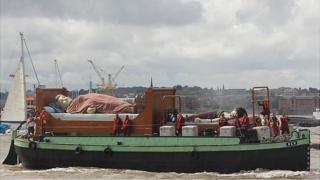 A giant marionette show commemorating World War One has come to a close with a spectacular river boat finale.
The three giants pulled huge crowds to Liverpool over three days.
Grandmother, Little Girl and Xolo the dog have now sailed out of the city on the River Mersey in a special leaving ceremony.
Liverpool City Council confirmed the Memories of August 1914 event was watched by a million people.
Tens of thousands of them applauded as the giants were lowered into a boat by cranes - as clouds of "dry ice" vapour rose above the water at Canning Dock.
It brought the curtain down on an event that has seen the giants visit many of the city's landmarks, including the Three Graces, St George's Hall, and Newsham Park.
However, the event caused serious travel delays for train passengers on Saturday night, with Liverpool's Lime Street station becoming hugely congested.
Many services were delayed but local bus services accepted train tickets to help passengers reach their destinations.
Liverpool City Council urged people to "find alternative ways home" following the unprecedented crowds.
The marionettes left the city after resuming their journey on Sunday at Clarence Dock, where the giants were reunited on Saturday night.
An estimated 35,000 people turned up for that part of the display alone.
Much of the event has been dedicated to the World War One Liverpool Pals battalions, and the final episode of the spectacle featured the giants and Liverpool Pals regiment.
Culture Liverpool director Claire McColgan said the show and huge crowds were "creating history".
Royal de Luxe, the French street theatre company behind the spectacle, previously said the figures would cover 30 miles in total over the weekend.
Hundreds of thousands of people saw the last Giants event in 2012, which commemorated the sinking of the Titanic.
BBC News Online will be following the giants through Liverpool with live text coverage, pictures and video of events. For more details, visit the BBC's dedicated Liverpool Giants page.