Liverpool Giants: Creating a 'powerful' tourist pull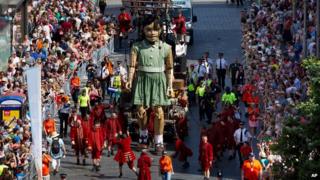 As the Giants roam Liverpool's streets watched by hundreds of thousands of people, there can be no doubting their cultural value. But does anyone outside the region care?
Have their footsteps been felt in London? Are the Giants on the radar of the South East? Or is it an event that matters only to Liverpool?
Councillor Wendy Simon, the cultural lead on Liverpool City Council, says she is in a lucky position. She gets to be part of many cultural events in Liverpool - big and small - and she is sure the Giants have national appeal.
"Our experience in 2012 was unique," she says.
"In the run-up to the event people weren't really sure what to expect, but there was a buzz of anticipation about it.
"When the Giants woke up and started exploring the city, everyone was captivated and as each day progressed, more and more people came out onto the streets to take in the spectacle and the atmosphere was just electric.
"Ever since, people talk to me about the Giants and I used to get asked regularly when they were returning."
Given that more than 20,000 people queued just to see the Grandmother lying in state at St George's Hall - and tens of thousands more poured on to the streets to see her wake - it is fair to say the audience is there.
For Ms Simon, 2008 - when Liverpool was European Capital of Culture - was a pivotal year put the city on the global map when to came to staging cultural events.
"The Giants are a continuation of this success - they're part of the plan to showcase Liverpool's comprehensive cultural scene," she says.
"This year is about making sure Memories [of august 2014] has the same wow factor and emotional reaction to the story being played out on the streets."
'Full of surprises'
She describes the Giants as "hugely important" to the city region - both in terms of finance and the "feel good factor" they bring.
"The financial benefits are, of a course, a major reason why we stage these sort of events - they bring millions of pounds back into our local economy and create jobs, which in the current climate is invaluable.
"To be able to temporarily transport people to a magical world of Giants is fantastic and also means that thousand of people can engage with and access culture and theatre on their doorstep and for free."
Ms Simon says there will always be questions around financial spend, especially when a public body is staging the event.
"It's just a case of bring honest and open about the costs surrounding the show," she adds.
The people of the city fell in love with the Giants in 2012 for different reasons and are already turning out in their hundreds of thousands to see them again.
In the days that follow the numbers will no doubt be analysed to discover where this year's visitors came from. But those behind these kind of big events believe it has wider cultural resonance.
Visit England, the national tourism agency, says in 2014 there is a vibrant four-year cultural programme, starting in Liverpool, to commemorate the centenary.
Its chief executive James Berresford says: "A time for reflection and commemoration, the anniversary of the First World War is something that will resonate across the country in 2014, shown by the outstanding level of activity across England.
"These experiences, from new exhibitions in our leading museums and galleries to specially commissioned pieces of theatre and performance, will allow visitors and communities to mark the centenary in a way that is meaningful to them.
"Events are a powerful pull for destinations and the Memories of August 1914 will be no exception for Liverpool."
Liverpool City Council points out that in the last 10 years, more than £5bn of investment has transformed the region for tourists and business visitors.
Yet it retains the charm and character for which it is famous.
Last time the Giants were in town, they were estimated to have pulled in £32m for the economy with visitors staying in hotels, eating out at restaurants and spending money in shops.
Although the figures sound plucked from the air, economists assure us they are based on tangible figures based on average spend per visitor.
There are even more people expected to pour into the city than the visitors during 2012, with conservative estimates suggesting 800,000 people over three days.
The final word goes to Liverpool's ebullient Mayor, Joe Anderson.
"Liverpool has an outstanding reputation when it comes to staging free, outdoor events," he says.
"But this event is set to elevate us to a whole new level. A giant level in fact."
BBC News Online will be following the giants through Liverpool with live text coverage, pictures and video of events. For more details, visit the BBC's dedicated Liverpool Giants page.