Stirling Prize: Everyman Theatre makes shortlist for top award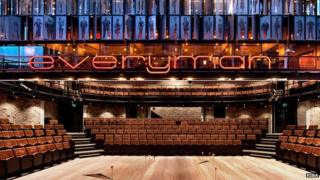 Liverpool's newly rebuilt Everyman Theatre has made the shortlist for a top architecture prize.
The Royal Institute of British Architects' (Riba) Stirling Prize is awarded to the best new building.
Judges said the Everyman, which reopened in February, was of "outstanding quality" and was "a building that will age gracefully".
Other nominated sites include Manchester School of Art, the Shard in London and the Library of Birmingham.
Work started on the new Everyman, designed by architects Haworth Tompkins, in 2011.
Rebuilding the theatre - famed for launching the careers of actors including Bill Nighy, Julie Walters and Pete Postlethwaite - cost £27m.
The panel which picked the shortlist said: "[the Everyman] will both reassure and delight its loyal audience and those discovering this gem for the first time."
Deborah Aydon, Everyman and Playhouse executive director, said: "We are thrilled to have been shortlisted for this prestigious award and very proud that the Everyman, which has been so quickly taken to the hearts of the people of Liverpool, has also been able to fly the flag nationally for imaginative and high-quality architecture in our city."
Mayor Joe Anderson said: "The Everyman Theatre is a hugely important part of the cultural fabric of Liverpool and the new look building is an amazing space which the whole city has already fallen in love with.
"When I looked around it for the first time I was struck by how they had sensitively developed it to retain the best aspects of the old theatre while creating a fantastic new, modern performance space. It richly deserves this prestigious prize."
The Sterling Prize winner, picked by a team of judges, will be announced on 16 October.