Longship sheds light on Merseyside's Viking history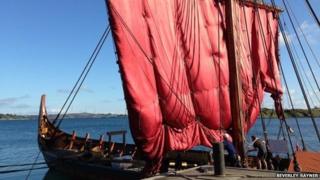 It is a sight that would once have struck fear into the soul - a huge Viking warship looming on the horizon containing warriors hell bent on battle. And one has returned - to the docks of Merseyside.
The Viking invasions were more than 1,000 years ago, but a Norse longship reconstruction is helping to tell this infamous chapter of Europe's history again.
The Dragon Harald Fairhair has sailed into Wallasey via the Isle of Man - its final destination after a swashbuckling two-week voyage from the town of Haugesund, Norway.
And there is a special reason why the project's leaders chose to end the voyage in this part of the UK - as Merseyside has some of the richest Viking history in the country.
In fact, the Vikings had their own Parliament at Thingwall in the Wirral, a place name that has its roots in the Old Norse meaning "assembly field".
"Merseyside is steeped with Viking tradition and the whole area is crammed full of Viking place names on both sides of the Mersey," said Steve Harding, Wirral-born professor of applied biochemistry at Nottingham University and an expert on the Vikings in North West England.
"Even our sporting venues can't escape from them. Aintree is from the Old Norse 'ein-tre' meaning one tree. Tranmere is from Old Norse 'trani-melr' - meaning cranebirds or herons at a sandbank, and outside Anfield stadium we find Walton Breck Road. Breck is from 'brekka' - meaning a slope on a hillside."
Building the Dragon was the dream of Norwegian businessman Sigurd Aase, who Prof Harding met four years ago, while a Leicester-Nottingham team were carrying out DNA testing in Norway.
The pair have a mutual fascination with Viking history, and Mr Aase accepted Prof Harding's invitation to sail his ship - named after a 9th Century Norwegian king - to Wallasey.
"Merseyside is an incredible place for Viking history and I just said, why don't you bring this thing to Merseyside?" said the professor, who recently published a book with colleagues at the University of Leicester on the region's strong genetic connections with Scandinavia.
"The Vikings arrived here in AD 902, but it was probably not quite how you'd have imagined it. They came after a huge battle expelled them from Ireland.
"Led by a Norseman called Ingimund, Irish chronicles tell us how he had then made some arrangement with Aethelflaed, the Queen of the Mercian English and daughter of Alfred the Great.
"Evidently Ingimund agreed to settle relatively peacefully, an agreement which they appeared to have honoured for five years, until the chronicles then tell us how they became dissatisfied with the lands they had and started to attack Chester.
"We are then told no more, although it appears that eventually a peaceful co-existence was established."
Other aspects of the region's Viking heritage include some impressive archaeology, including what appears to be weaponry from a Viking burial at Meols.
There are two Viking tombstones at West Kirby and Bidston, and evidence of two Viking houses at Irby and Moreton.
And of course, many place names are influenced by the Old Norse dialect - with Thingwall revealing just how substantial the Viking presence in the region once was.
Thingwall was the Vikings' administrative centre, a seat of government from where they would make policies and laws.
Prof Harding said: "We have two Thingwalls on Merseyside - Thingwall on Wirral and Thingwall Hall at Knotty Ash in Liverpool. I believe Merseyside has the only two definite examples of Thingwall place names in England.
"And the Vikings are still here - a recent genetic survey has shown that up to 50% of the DNA of men from old Wirral and West Lancashire families - men with surnames that were present in these areas prior to 1600 - is Scandinavian in origin."
The ship set sail with a crew of 30 sailors from around Europe.
At 115ft (35m) long, the hand-built ship is the world's largest-ever reconstructed Nordic longship and features 25 pairs of oars, authentic sails and rigging.
Its journey almost hit the bumpers after just three days, when high winds off the coast of northern Scotland caused the ship's mast to break and fall overboard.
But she was safely diverted to Lerwick Harbour in the Shetland Islands using an on-board engine installed in case of emergency - before arriving at Wallasey Docks on Thursday.
The oak-built longship will remain in Wallasey for about two weeks undergoing repairs, before sailing back to Norway.
Historian Paul Mercer acted as an educational consultant for the project.
He said: "It really brings home exactly how the Vikings managed to travel such great distances.
"Viking ship-building was the 'rocket science' of its day. We look at man's achievements and flying to the moon - but this was really the 'space programme' of the time.
"We're used to seeing the ocean as a sort of obstacle. But for the Vikings, it was their highway. It was their main road and they used it to their advantage."