Hillsborough police statement 'sanitised' by third party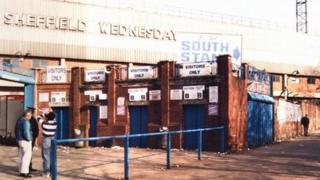 A statement given by a police sergeant on the day of the Hillsborough disaster was "sanitised" by a third party, an inquests jury has heard.
Sgt David Batty said the wording of a sentence had been changed and a further line had been removed completely.
The inquests also heard from an ex-turnstile worker who said he took cash to allow ticketless fans into FA Cup ties in the years before the disaster.
Dr James Gauntlett said other stewards allowed fans in while he worked there.
In April 1989, 96 Liverpool fans were fatally crushed at the FA Cup semi-final held at the stadium.
Sgt Batty, giving evidence via video link due to poor health, wrote in May of 1989 that he had overheard a radio message at Hillsborough in which an officer was "pleading" for gates to be opened.
In his official statement that went before the Lord Taylor public inquiry, the wording was changed to "requesting".
A sentence in which he said a message over the public address system was a "garbled noise" was also removed, the jury heard.
Sgt Batty said he heard "pleadings for the gate to be opened" on the radio while dealing with youths who had been arrested for being drunk at a sporting event.
He said: "The word was crossed out and somebody put 'asked' in and first that went, and put 'requested' in. It was fair enough, it was a request".
'Corrections taken out'
The jury was shown two versions of his statement, but with one with the word 'amend' written on it.
Sgt Batty agreed that it was "very unusual" for a third party to amend an officer's statement and he did not know who had crossed out his sentence.
Mark George QC, representing some of the Hillsborough families, said Sgt Batty's statement had been "sanitised".
He said: "All of these corrections have been taken out so it now reads as if those passages never appeared in your statement".
Sgt Batty was also questioned by Chris Daw QC, representing Chief Supt Donald Denton and Chief Supt Terry Wain.
The two were involved in evidence gathering by South Yorkshire Police after the disaster in 1989.
He agreed with Mr Daw that the changes to his statement had not affected the evidence he gave to the new inquests.
'Extremely dirty look'
The jury earlier heard from Dr Gauntlett, who worked as a turnstile operator at the club from 1979 to 1985.
He said during FA Cup semi-final matches at the stadium in 1980 and 1981, 10% of his fans at his turnstile did not have a ticket or were at the wrong end.
Dr Gauntlett added in 1981 he was told to allow fans "without a valid ticket" into the stadium to avoid a crush at the turnstiles.
By 1985 the club had tightened up procedures, the inquests heard.
Dr Gauntlett told the Warrington court that the "lessons to be learned" from 1980 and 1981 had motivated him to write to the Taylor Inquiry, which investigated the causes of the disaster.
He said at league games fans could buy tickets on the door. At those matches, there was an expectation the cash he had taken, along with the ticket stubs, would tally with the number of fans passing through the turnstiles.
He said a supervisor, Basil Jones, would give turnstile operators an "extremely dirty look" if their cash and count did not match and could eventually be dismissed.
But as FA Cup semi-final games were sell-outs, no tickets were sold on the door so they only collected ticket stubs.
Dr Gauntlett said: "We were explicitly told in 1981 by Basil Jones that our job was to get people through the turnstiles to avoid any crush in the turnstiles and if somebody arrived at the turnstiles without a valid ticket, you should allow them in."
He said that police would check tickets outside and his job was to "get them in to the ground as quickly as possible".
At each semi-final, he estimated 20 people went through his turnstile without tickets and "probably 60 or 70" went through with a ticket for a different section of the stadium.
Following a question by Jonathan Hough QC, junior counsel to the inquests, Dr Gauntlett said he took £70 in cash on top of his £10 shift payment in 1980. In 1981, he made "over £100".
Andrew Waters, representing Sheffield Wednesday, said taking money from ticketless fans was "stealing from the club".
Dr Gauntlett replied: "Nobody had a claim on that money. The club did not want the money. The club just wanted the ticket stubs."
'Capacity exceeded'
Mark George QC asked Dr Gauntlett about what effect taking money from ticketless fans would have on the numbers inside the ground.
He asked: "The net result of that would be that the capacity of the Leppings Lane would almost inevitably be exceeded if everyone turned up."
Dr Gauntlett replied: "Yes."
Mr George continued: "And it follows from what you have said that this would have been completely obvious both to the club and to the police?"
"Yes, it should have been," Dr Gauntlett replied.
The inquests continue.