Sam Walsh's The Dinner Party donated to Walker Art Gallery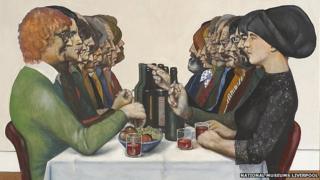 A pop artist's painting of a Liverpool dinner party, featuring local poets, musicians and painters, has been gifted to one of the city's main galleries.
Sam Walsh's The Dinner Party features the artist with 22 others, including painter Maurice Cockrill and writers Roger McGough and Adrian Henri.
It has been gifted to the Walker Art Gallery by former National Museums Liverpool trustee John Entwistle.
He said the gallery was "absolutely the right place for it".
Walsh, who lived in Liverpool for 29 years and died in 1989, was one of the driving forces in the city's art scene in the 1960s.
Several of the Irish artist's paintings are held in collections around the city and nationally, including portraits of playwright Samuel Beckett, poet W H Auden, FBI director J Edgar Hoover and musician Sir Paul McCartney.
The Dinner Party, painted in 1980, depicts people in Walsh's life, including his solicitor, neighbour, bank manager and son.
An Arts Council England spokeswoman said the work, which includes two depictions of the artist, was an homage to the pre-Raphaelite artist John Everett Millais' Isabella, which is also part of the Walker's collection.
The work has been given under the Cultural Gifts Scheme, which allows taxpayers to donate works of art for public display in return for a tax reduction.