How giants genius Jean-Luc Courcoult fell for Liverpool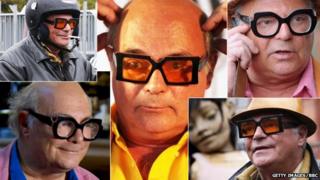 The giant marionettes of French street theatre company Royal de Luxe are heading back to the streets of Liverpool to help mark the World War One centenary. But why does its eccentric director favour this UK city over others?
A group of red-uniformed Lilliputians will wake her, unfurling her green shamrock-decorated dress and gently stroking her face.
When she was first unveiled in Nantes from beneath a giant red gingham blanket, there was applause and cries of "regardez!" (look!). People leaned out of windows, straining for a better view.
In Liverpool, she has been lying in state at the most stately of locations - St George's Hall, the neo-classical splendour in front of Liverpool Lime Street station.
She snores loudly, her face is made of latex and she has been likened to an elderly Audrey Hepburn. At 25ft (7.4m) tall and weighing four tonnes, she needs 26 humans to move her.
She is the Grandmother. Welcome to Liverpool's Giant Spectacular - and the world of Jean-Luc Courcoult.
He is the company's ebullient and eccentric director, the creative brain behind the giants who, despite their contrasting vocations, has much in common with the city's equally larger-than-life mayor.
Courcoult was born in Paris in 1955 and became interested in theatre during his teens, eventually leaving his family at 18 to study acting in Aix-en-Provence.
Willy Wonka
There, he met Didier Gallot-Lavallée and Veronique Loève, and formed the creative alliance now known as Royal De Luxe.
Believing it was easier to gather people outside to witness his art rather than bringing them into one room, Courcoult started developing the idea of the street theatre he now directs today.
Monsieur Courcoult defies definition, but fits the accepted mould of "eccentric" in his brightly coloured shirts and vast oversized thick-rimmed glasses. He has been likened to a real-life version of Roald Dahl's Willy Wonka.
When the giants were last in Liverpool in April 2012, he narrowly avoided arrest when he jumped into the Mersey in a dramatic show of exuberance as his creations sailed away from the city.
He could have been seriously injured in the freezing waters; his rescuers were slightly bemused by the act of recklessness.
This time, no doubt, he will be a man flanked by marshals and other officials once the giants have finished their 23-mile stroll over three days, watched by up to one million people.
Royal de Luxe in numbers
The biggest Royal de Luxe audience was 3.5m people in Guadalajara, Mexico in 2010
Memories of August 1914 will tell the story of the Liverpool Pals, the 5,000 local men who answered Lord Kitchener's call to arms at the beginning of World War One
About 800,000 spectators visited Liverpool for Sea Odyssey in 2012
The 2012 show was said to have generated £32m for the local economy
Memories of August 1914 will be the giant grandmother's international debut
Click here for full coverage of the giants in Liverpool
Other British port cities, including Southampton, reportedly approached Courcoult's company but were met with a firm "non". The giants travel on to Limerick in Ireland in September, a place not too dissimilar to Liverpool.
Enigmatic and difficult to pin down, Monsieur Courcoult describes Liverpool as "a rhinoceros."
He does not further elaborate the analogy, but with Gallic hand gestures he seems to indicate that it is a tough place, a resilient place. A rhinoceros, then.
On the city's residents, he is more forthcoming. People in Liverpool "like to talk about the past, tell family stories and keep them alive", he says.
It would seem this is why he loves the city so much - Courcoult is a natural storyteller - albeit through the medium of the large marionettes.
Cackling loudly as he describes his relationship with its mayor, Courcoult says: "I love, love, love Joe Anderson." He does not explain why, but laughs loudly and mimes putting his arms around his well-padded middle.
It can be tricky getting coherent answers from a creative genius.
Nevertheless, others have and Courcoult has been quoted as saying: "There's a history and a past to Liverpool that gives the city an identity and civic pride."
So why do the two larger-than-life, middle-aged men get on so well?
On the surface, they are not what anyone would consider natural allies. Courcoult clearly has the edge when it comes to creativity, but Anderson has his own vision for Liverpool, and his unique no-nonsense approach.
You could be forgiven for assuming they would not like each other, which is what makes their relationship so interesting.
Joe Anderson is a former social worker who grew up in Dingle and left school at 16. He is of Liverpool, a union man and career politician willing to stand up to the government when he thinks it necessary.
His pride and passion can be his Achilles heel - Twitter spats with critics and Eric Pickles are testament to this.
Always outspoken and never predictable, he has clashed with the government over the spending review and with bus companies over the sudden and controversial abandonment of bus lanes.
But when he sees a benefit to the city, he welcomes it with open arms - and Royal de Luxe's artists are very welcome.
"Jean Luc and his team have fitted right into Liverpool and it is no surprise really. His vision, determination and leadership is shared by many in this city," he says.
"His passion and flair has allowed his art to be part of people's everyday lives - creating memories that will remain with us forever.
"It has always been a pleasure to work with Jean Luc, his character ensures there is never a dull moment. He's a great friend of the city."
Claire McColgan, head of culture at the council, draws parallels between the two men.
"Jean-Luc is drawn to Liverpool as he loved the people and their honesty," she says. "People in Liverpool love larger-than-life characters, which is why he and the mayor probably get on so well."
Ms McColgan says Courcoult is very particular about who he works with and "has said no to many major cities, including Southampton".
"He loves the people of Liverpool and their honesty, there's a real charisma about the place," McColgan adds.
The last time the giants were in Liverpool, Little Girl Giant and her uncle - an enormous 50ft (15.2m) diver - emerged from the Mersey as they tried to find one another.
"It's so accessible that even the hardest-hearted people will have their hearts melted," Ms McColgan says.
"My enduring memory of last time is seeing a guy in a high-vis jacket off a building site lean down and pat Xolo the dog. I saw older people brought out of sheltered accommodation with blankets over them, crying. It was a collective memory."
This time, she adds, the emotional weight will be heavier.
"There's a very different dynamic with Grandmother Giant and the Little Girl," says Ms McGolgan. "She is absolutely human there's a humanity to her expressions. To thousands of people they are real."
Each giant will be tended by Lilliputians who handle the cranes, pulleys, electrics and hydraulics. During afternoons, the Giants nap and at night they sleep, snoring heavily.
'Collective magic'
Courcoult and his team visited care homes and former King's Regiment members around Liverpool to collect indirect memories of the war. These memories will be used during the performance but any more details are banned - it will ruin the surprise.
Giants don't come cheap. The estimated budget for Memories of August 1914 is £1.7m to £2m, underwritten by the city of Liverpool and co-funded by the Arts Council, World War One centenary arts commissioner 14-18 Now, the European Regional Development Fund and private sponsorship.
Memories of 2012 might still be fresh as spectators turn their attention to 2014, but Ms McColgan says they are not in competition with Sea Odyssey and the two events can co-exist happily creating a "collective magic".
If success follows, it will be the collective vision shared by two unlikely allies - the mayor and the creative genius - that helped pull it off.
BBC News Online will be following the giants through Liverpool with live text coverage, pictures and video of the events. For more details, visit the BBC's dedicated Liverpool Giants page.