Southport Beach stunt sees 5,821 children form 'human poppy'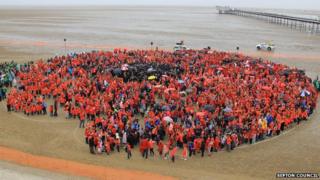 Nearly 6,000 children created a "human poppy" on a beach in a world record attempt to commemorate World War One.
The stunt, on Southport Beach, Merseyside, was performed to mark 100 years since the start of the conflict.
With 5,821 children dressed in red, black and green, the poppy had a diameter of about 55yd (50m).
It broke a record set in May, when 2,250 children created a poppy in Hampshire.
The event was planned by Sefton Council, Sefton CVS and the Royal British Legion and involved schools from around the area.
Col Martin Amlot, a patron of Sefton CVS, said: "From Sefton, some 3,000 men died while serving in the forces, and their sacrifice is still remembered with pride by their families and all of us today.
"We hope this event will not only give them that honour of remembrance, but will leave a legacy for peace and respect across the local community."
The event had echoes of the "Olympic rings" formation, displayed on nearby Crosby beach as the Olympic torch relay passed through the area in 2012.
The record attempt will now be officially verified by Guinness World Records.