Liverpool Museum exhibits Nelson Mandela drawings and lithographs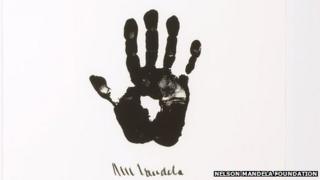 Original artwork by Nelson Mandela is being put on display and offered for sale at the World Museum in Liverpool.
The former President of South Africa produced the 14 signed drawings being exhibited between 2001 and 2003.
Many feature parts of Robben Island, where Mr Mandela was imprisoned for 27 years, including the lighthouse, the church and the prison courtyard.
Money raised from selling lithographs produced by Mr Mandela will be donated to local charities.
Anna Hunter, from the Belgravia Gallery in London which is staging the exhibition, travelled to South Africa in 2002 to meet Mr Mandela when he was working on the drawings.
"He told me that when he finally retired he'd like to be a full time artist," she said.
The exhibition runs until 6 July.