Hillsborough inquests: Police officer 'on a break'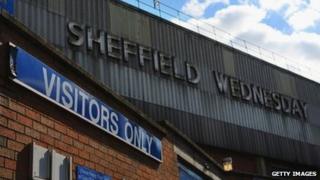 A police officer who appeared before the Hillsborough inquests has said he was told to take a break just before the 1989 match was called off.
PC Malcolm Hodgson, the first officer on duty to give evidence, had been meeting coaches coming into Sheffield.
At 15:02 BST, ten minutes after an exit gate was opened to relieve a crush outside, he recorded in his notebook being told to take a "planned break".
The new inquests are hearing evidence about the 96 deaths in the disaster.
Stephen Simblet, a barrister representing a group of Hillsborough families, asked: "After three o'clock, nobody was saying to you, 'we have got a problem, we have got an emergency, you need to attend'. You were being sent off on your break as expected?"
Mr Hodgson, a South Yorkshire Police motorcyclist, replied: "At the time, yes."
'Chaotic scene'
After travelling about three miles to the Attercliffe area of the city, the bikes were all told to return to the stadium "at about quarter past three".
He said he "had no idea of the magnitude of what was taking place" because he could not access his basic VHF radio.
He escorted four or five ambulances from the ground to the hospital and arrived back at the stadium at 15:50 BST.
He recalled the scene was then "chaotic", with police officers "in a daze".
Mr Hodgson told Fiona Barton, representing South Yorkshire Police, the radio problems did not affect the performance of his duties on the day as he followed his training.
The hearing continues on Thursday.