Liverpool pub arson attacker treated for burns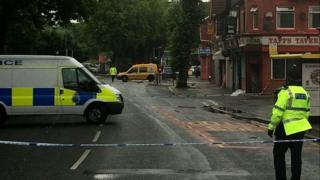 A member of a gang who poured flammable liquid onto a pub floor and set it alight is being treated for burns in hospital.
Merseyside Police said he was one of four who carried out the attack on Friday night at Taff's Tavern in Derby Lane, Old Swan.
The emergency services were called shortly before 22:30 BST with the flames quickly contained.
Police said that none of the staff or customers was injured.
Paramedics found the injured man close to the pub. His condition is described as stable.
He has not been arrested but police said he would be interviewed "as soon as he is well enough".