Hillsborough engineer backdated inspection certificates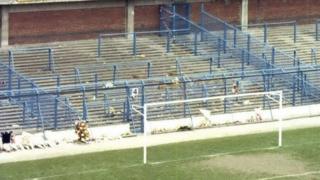 A consultant engineer sent backdated certificates for inspections in 1986 and 1987 to Sheffield Wednesday over a month after the 1989 Hillsborough disaster, the inquests heard.
Wilfred Eastwood sent the documents to the club's secretary, explaining they had been not been properly carried out.
He said a Sheffield City Council representative had not been present.
Expert engineer John Cutlack said the certificates were "horrifying... from a professional perspective".
Ninety-six Liverpool fans died as a result of the crush at an FA Cup semi-final at the ground on 15 April 1989.
Showing the documents to the jury, counsel for three of the victim's families Terry Munyard said: "You would never know from looking at them that they had been produced in 1989."
'Remarkable failure'
In an accompanying letter, dated 25 May 1989, Dr Eastwood wrote he had not realised the council representative should have been present for the inspections and so enclosed the backdated certificates.
Mr Cutlack said he had not seen the letter before, adding: "I have to say that that's a fairly horrifying letter from a professional perspective."
Earlier, the court in Warrington was told Dr Eastwood's firm should have seen that the ground's capacity on a safety certificate was not the same as it was in reality.
Mr Cutlack said the official Leppings Lane end capacity of 10,100, where the disaster happened, was about 30% higher than the reality.
He said it was a "remarkable failure" that it had not been considered in the ten years since the certificate was first issued.
He said he would have thought South Yorkshire County Council and Sheffield City Council would have challenged the capacity figure, adding he would have expected one of those who oversaw the certificate to identify the error.
The inquests continue.