Liverpool giants: Memories of 2012 Sea Odyssey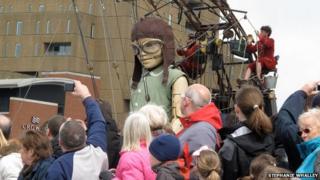 When giants last roamed the streets of Liverpool in April 2012 they bewitched thousands of people - including those involved in the spectacle. BBC News spoke to one volunteer about the legacy of Royal de Luxe's Sea Odyssey.
It is an experience that she struggles to find the words to explain, such was the impact on Liverpool-based photographer, blogger and digital expert Stephanie Whalley. It still brings a tinge down her spine as she remembers the Giants.
A volunteer last time round, Ms Whalley managed to take lots of photographs and document her experience through her Flickr account.
"It was an indescribable experience," she says. "Absolutely incredible, and very hard to put into words."
"I first saw Girl Giant at the Pier Head when she was sleeping. So many people were watching. I've never seen so many people as excited and taking photographs.
"It was not a buzz or a hype, it was more than that. It was just awe and silence - people who were full of awe."
Ms Whalley was working with the media while writing her blog and "dashing all around town taking pictures" in her spare time. Among her numerous pictures are memories that remain with her.
"I loved watching the dog Xolo interacting with the kids, that was one of my favourite moments," she says.
"One of my best moments was at the Liver Building when Girl Giant was on her little deckchair having a sleep. I also went to see the diver coming out of the water. That was actually a little bit frightening in one way.
"It was unexpected really because the crowd did not react to them as big giant puppets, they regarded them as a massive dog and a massive girl.
"It was almost as if they treated them as if they were real. Even older people were treating them like that."
"It definitely united people and brought everyone together in the city, from high up business people to little kids," she adds.
"There was a sense of unanimous awe among the community no matter who they were or where they were it completely connected people.
"What made it incredibly was the impact last time of seeing it for the first time. I am sure people will react in the same way this time around."
BBC News Online will be following the giants through Liverpool with live text coverage, pictures and video of events. For more details, visit the BBC's dedicated Liverpool Giants page.