Hillsborough pen was packed to 'twice' its safe capacity, says expert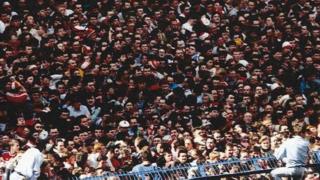 One of the pens at Hillsborough stadium where fans were crushed was packed to almost twice its safe capacity on the day of the tragedy, inquests heard.
Giving evidence, structural engineer John Cutlack said it would have been difficult to move around the terraces.
The ensuing crush in two pens at the Leppings Lane end on 15 April, 1989 led to the death of 96 Liverpool fans.
Mr Cutlack said those pens had informal capacities of 1,000 and 1,200, almost double the safe limit he calculated.
The expert witness told the jury in Warrington that his analysis of a photograph from the day of the disaster showed 1,296 people inside pen number three, which he estimated should only have held 678 spectators.
The jury has not heard a figure for how many spectators may have been inside pen four.
'Barriers too low'
On Tuesday, Mr Cutlack had told the inquests the safe capacity of the Leppings Lane terraces should have been 5,425, not the 7,200 stated on the ground's safety certificate.
He stated the safe capacity was affected by the height and lay out of crush barriers on the terrace.
Four of the 13 barriers inside the pens were "substantially too low" and the gaps in between some were too large.
The pens were part of the west terrace at the Leppings Lane end of the ground which was given an official capacity of 7,200 when Hillsborough's safety certificate had been issued in 1979.
But Mr Cutlack said the official limit was based on an "extremely basic calculation".
'Capacity too high'
Questioned by Christina Lambert QC, lead counsel to the inquests, he was asked: "Bearing in mind all that you have discussed thus far, Mr Cutlack, what is your view as to whether or not the condition of the west terrace was reasonably safe?"
He replied: "The fact that the capacities were too high led to the possibility of over-crowding - certainly in those pens three and four.
"That, in turn, implies that pressures could be created within the crowd that may have been higher... than the loads that the crush barriers... were expected to withstand."
He said the safety certificate should have been amended and individual capacities calculated for each pen.
The jury also heard that seven turnstiles were handling 10,100 fans leading into the west and north west terraces at Hillsborough.
Mr Cutlack said, based on a standard rate of accessing the ground, this meant it would have taken two hours for the fans to enter.