Scrotum tumour ignored by pensioner Bob Day for a year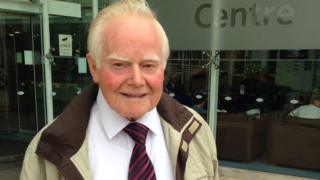 An 83-year-old Liverpool man who had a tumour the size of a football removed from his scrotum has urged people to go to the doctor if they find a lump.
Bob Day, of Speke, had a sarcoma tumour weighing 9lb (4kg) and measuring 30cm (12 inches) long removed at the Royal Liverpool University Hospital.
Mr Day said he put off getting the lump checked for a year as he "doesn't like a fuss".
He said he went to the doctors when his family spotted it through his clothes.
'New lease of life'
"You could see it in my trousers. The tumour was getting bigger and bigger but I kept putting it off - I don't like a fuss," he said.
"I wasn't in pain. If I had been in pain, I probably would have gone earlier."
He said: "I was still doing the gardening and doing everything as normal."
Sarcomas are rare cancers that develop in the muscle, bone, nerves, cartilage, tendons, blood vessels and fatty and fibrous tissues.
His daughter Jennifer Roberts, 54, and son Stephen Day pleaded with him to go to his GP after spotting the lump.
Ms Roberts said: "With the size of it, I thought they were going to say it's too late, there's nothing we can do. "
The Royal Liverpool University Hospital said X-rays since his surgery show no sign of the cancer.
His surgeon Coonoor Chandrasekar said it was very important to get lumps seen early.
"If Bob hadn't had it checked, because of the way tissue breaks down it could have spread to his lungs which can prove fatal."
Speaking as part of Sarcoma Awareness Week, Mr Day said: "I was a fool, I should have gone earlier, everyone at the Royal was so reassuring.
"I'm 100% OK now and it's given me a new lease of life."