Everton bans fan over racist Richard Wee tweets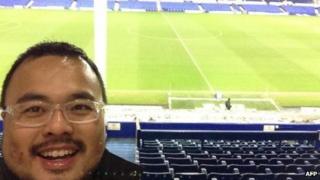 Everton Football Club has banned a supporter for tweeting racist and homophobic comments at a Malaysian fan.
The club acted after a series of tweets were posted making abusive remarks about Richard Wee.
Mr Wee made headlines in February when his plans to see Everton play live for the first time in 30 years were thwarted after the Blues' match against Crystal Palace was postponed.
A club spokesman confirmed they sent a letter to the twitter user on Friday.
'Zero tolerance policy'
The Everton spokesman said: "The club has contacted a supporter informing them of our decision to ban them from all Everton matches indefinitely after they appeared to have posted homophobic and racist comments linked to the club on the social media site twitter.
"This is a breach of our ticket terms and conditions.
"Everton has a zero tolerance policy on racism and homophobia."
The fan accused of being responsible for posting the comments was traced via an email address linked to the twitter account.
The club spokesman added that the accused fan has seven days to write to the club with proof that he did not post the offensive comments.
The offending twitter account has since been deactivated.