Top officer suggested Hillsborough turnstile redesign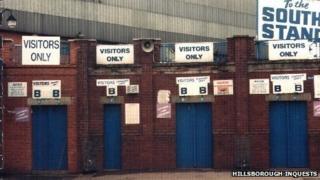 A South Yorkshire Police inspector suggested redesigning turnstiles at Hillsborough five years before the disaster, the inquests have heard.
Insp Clive Calvert was the force's main liaison with the club and also sat on the committee that oversaw Hillsborough's safety certificate.
He suggested changes after noticing a build-up of away fans at the Leppings Lane end of the ground in 1984.
His suggestions were not adopted by the club, the jury was told.
Insp Calvert has since died and his earlier statements and evidence to previous inquiries were read to the jury in Warrington.
'Rough sketch'
In a statement dated 19 May 1989, Insp Calvert said he was South Yorkshire Police's main liaison with Sheffield Wednesday between 1979 and 1987.
"In 1984, I and other officers realised that after Sheffield Wednesday returned to Division One, problems were evident at Leppings Lane turnstiles due to an increase in away fans," he said.
"I suggested with a rough sketch that the whole of the Leppings Lane turnstiles, then a crescent shape, should be demolished with new ones built parallel and near the rear of the stand, with access to individual pens and to the stands."
Insp Calvert said this plan was discussed with other senior police officers who agreed it should be put to the club.
The jury heard the club's secretary came forward with a compromise and new banks of turnstiles were designed for the Leppings Lane end in 1985.
Two crescents were built, one with 16 turnstiles and another smaller one with seven.
'Pretty radical'
The jury also heard part of Insp Calvert's oral evidence to the Taylor Inquiry, which he gave on 28 June 1989.
He described his turnstile plan as "pretty radical", involving knocking all the turnstiles down and starting afresh with new turnstiles parallel to the back of the West Stand.
Having separate facilities for each enclosure on the terrace would have given "a great deal of space outside the terraces", he said.
The jury heard that Insp Calvert felt it would probably be "fairly costly" to carry out his plan.
Jonathan Hough QC, told the jury Insp Calvert's sketch was "similar to the arrangement we have now [at Hillsborough]."
New inquests are being held in to the 1989 football disaster, in which 96 Liverpool FC fans were fatally crushed.
Liverpool were due to play Nottingham Forest in the FA Cup semi-final.
Their fans were allocated the Leppings Lane end of the ground.
The inquests are due to continue on Monday.