Liverpool FC legend Ian St John recovering from cancer operation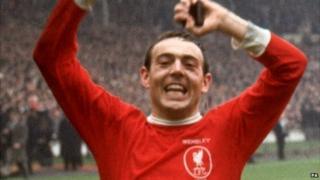 Liverpool FC legend Ian St John has had his bladder and prostate removed in his battle with cancer.
St John, 76, said on Liverpool FC's official website, he had the surgery in April and was now recovering at his home in Merseyside.
He said he was diagnosed with bladder cancer two or three years ago but it then spread to his prostate.
The ex-Scottish international, who made more than 425 appearances for the Anfield club, has vowed to "battle on".
St John opted for the operation on advice from his specialist.
Liverpool FC said he would need further but less serious surgery and was currently being cared for by his wife Betsy.
St John said: "It is an operation to mop things up - that is a technical term.
"There is nothing you can do about it other than battle on."
'Tidy up'
St John said he was "gradually getting fitter by the day" and had been using his gym at home.
"I hope the operation will be conclusive, that it will hopefully tidy up what is down there."
Reds' boss Brendan Rodgers sent St John a signed Liverpool shirt, which he has pledged to wear jogging when he is well enough.
St John was signed by Liverpool manager Bill Shankly in 1961.
He spent 10 seasons at the club and scored the winning goal in the 1965 FA Cup final.
After he finished playing football professionally, he was best known for co-presenting ITV show Saint and Greavsie with former Tottenham striker Jimmy Greaves, in the 1980s and 1990s.