Liverpool woman, 101, fights off burglar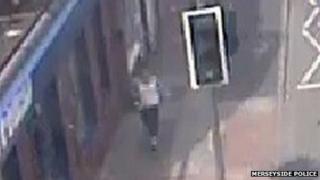 A 101-year-old woman managed to fight off an intruder who entered her home and tried to snatch her purse.
The female burglar tricked her way into the victim's house in Stoneycroft, Liverpool, by asking to use her phone.
She then demanded cash before attempting to take the elderly woman's purse from her handbag.
But the victim managed to hold on to the bag before ordering the burglar to get out of her house. The unsettled intruder then left empty handed.
Police have released CCTV images of a woman they are searching for in connection with the burglary, which happened at about 14:25 BST on Sunday.
'Remarkable spirit'
Det Insp Phil Mahon, of Merseyside Police, said: "The victim is 101 years old and one of only a handful of people in the country who has lived through both world wars.
"But some deplorable person still thinks it is acceptable to barge into her home and try to steal off her.
"She bravely fought the offender off and I have nothing but admiration for her determination and remarkable spirit.
"The victim suffered a slight abrasion to her arm but otherwise, thankfully, was uninjured. She was however left upset following her ordeal."