Hillsborough inquests: Lepping Lane end capacity unchanged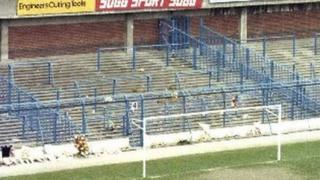 A structural engineer was told to keep the capacity at Hillsborough above 50,000 as it was "vital" to the club's future, the inquests have heard.
John Strange said he was asked to keep the 50,000 "magic number" when changes were made to the stadium so Sheffield Wednesday FC could host big matches.
He said the Leppings Lane end figure needed readjusting but feared "retribution" from his employer.
The number was unchanged from 1979 to the 1989 disaster when 96 fans died.
'Avoided confrontation'
Mr Strange, who worked for Sheffield Wednesday's engineering consultants firm, told the jury he was opposed to a number of changes to the stadium layout in the 1980s but admitted he did nothing at the time.
Ninety-six people died following overcrowding at the FA Cup semi-final between Liverpool and Nottingham Forrest.
Mr Strange, who was employed by Eastwood & Partners, said he "avoided confrontation" with the firm's owner Dr Eastwood as he could make "life very difficult".
He said: "If you did challenge him you could expect retribution, so you avoided confrontation to begin with."
Dr Eastwood is not well enough to attend the inquests in Warrington.
In 1981, the Leppings Lane end was divided into three separate pens following a crush at that year's FA Cup semi-final.
The crush at the game between Tottenham Hotspur and Wolverhampton Wanderers resulted in 38 people being injured.
In 1985, it was further divided into five pens following a request from the police.
Throughout those changes the capacity for the Leppings Lane end remained at 10,100.
A document that was seen by the jury appeared to show the club was struggling financially.
'Greater away fans'
Mr Strange agreed the capacity needed readjusting but he would not do so without being asked by Dr Eastwood, the inquests were told.
The jury heard Mr Strange was "dissatisfied" that dedicated entrances for particular parts of the terrace were not introduced, which would have allowed numbers going in to be monitored.
He also disagreed with the removal of a crush barrier from the Leppings Lane end, the jury heard.
Mr Strange said removing the barrier should have reduced the standing capacity because of fears it could lead to overloading.
Peter Willcock QC, who represents 75 of the Hillsborough families, asked why he did not push the point more firmly with Dr Eastwood.
Mr Willcock said: "He was your boss, but you were a qualified structural engineer. You're not a babe in arms."
Mr Strange responded: "When he said do something, you did it, you had no option."
Mr Willcock said: "Even if it put someone's life at risk?"
"He was the boss," Mr Strange said.
Later Mr Strange said there was "disbelief in the office" when the decision was made to allocate the Leppings Lane end to Liverpool fans because they had "a far greater away support".
He read a letter he had recently written about Dr Eastwood which said: "If he detected any mental weaknesses in a member of staff he would exploit it, if he took a dislike to them, until he destroyed them.
"You may believe I am deranged but I still feel under his control and I can even detect his presence here today," Mr Strange added.
The jury was told Mr Strange was of the opinion that the safety certificate was "a living document" which he assumed someone was updating.
He accepted Eastwood & Partners was responsible for ensuring Hillsborough was a safe place for football spectators.
The hearing continues.