Liverpool Tate to host 'largest' UK Mondrian exhibition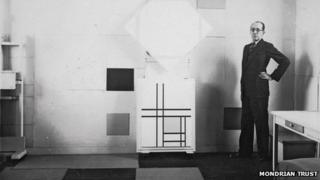 The largest ever UK exhibition of work by abstract painter Piet Mondrian is to open this week - complete with a life-size reconstruction of the artist's Paris studio.
Tate Liverpool has planned the display to commemorate the 70th anniversary of the Dutch painter's death.
Mondrian was a pioneer in the development of abstract art at the beginning of the 20th Century.
Some of his pieces have sold for several million pounds.
Opening on Friday, Mondrian and his Studios will feature works never before seen in the UK.
The exhibition will also feature an accurate replica of Mondrian's studio at 26 Rue du Départ, Paris, which visitors will be able to step into.
Mondrian's studios in Amsterdam, Paris and New York have been described as akin to "artworks" themselves, with art historian Yve-Alain Bois likening them to "an experimental expansion of the work and the condition for its accomplishment".
Drawings from Mondrian's 1914 series Pier and Ocean will be presented on the Tate's fourth floor, overlooking the River Mersey.
Three of the artist's most celebrated early pieces - Compositions A, B and C - will be displayed together for the first time since the year they were made in 1920.
These works are the earliest examples of the style most associated with Mondrian's name - made up of red, yellow and blue planes.
Mondrian left Europe for New York on board the Samaria, a Cunard White Star Lines ship that departed from Liverpool on 23 September 1940. He died of pneumonia in 1944, aged 71.