Birkenhead memorial for 1939 HMS Thetis victims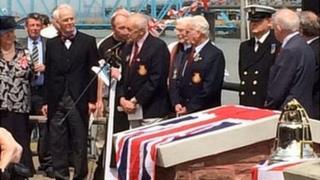 A memorial honouring 99 people who died when a submarine sank 75 years ago has been unveiled in Merseyside.
HMS Thetis set sail from Wirral on 1 June 1939 for sea trials but sank due to a torpedo problem in the Irish Sea, 40 miles north of Llandudno.
The memorial at the Woodside Ferry Terminal, Birkenhead, was the idea of Derek Arnold, whose father, Walter, was one of only four survivors.
Wreaths were also dropped into the sea off Llandudno in honour of the victims.
The submarine was eventually grounded on Moelfre Bay, Anglesey, three months after the disaster struck.
Mr Arnold, 76, who is a member of the Liverpool Anchorage Club which helped raise the money for the tribute, said about 200 people attended the official unveiling.
Many of those at the service were relatives of the 103 sailors onboard the HMS Thetis, he said.
He said the submarine, built at Cammell Laird shipyard, had twice as many people onboard as it should have done when it sank.
Crew numbers were inflated by a number of engineers from the Birkenhead shipyard.
Mr Arnold said this meant instead of there being 36 hours of breathable air onboard, there was only 18 hours.
He said it made rescuing the crew "a tall order".
The 99 victims succumbed to asphyxiation or drowning.
They are all named on the sandstone tribute as well as the survivors and a diver, Petty Officer Otho Pardue, who died during the rescue effort.
Mr Arnold said his father, a leading stoker with the Royal Navy, was 27 when the tragedy happened.
"He was the last man to get out of the submarine alive," he said.
"My father never really talked about the disaster. I was a baby when it happened. He died when he was 65 and I didn't know the questions to ask him. He was a reticent man and didn't say a great deal."
Mr Arnold added: "I think he would be very proud of the memorial."