Warrington Hospital staff sacked after patient given wrong blood type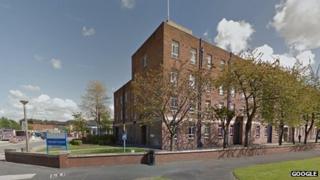 Two hospital employees have been sacked after a patient was given the wrong type of blood.
Warrington Hospital described the blunder as a "terrible event that put the patient's life at risk" in the minutes of a board meeting.
Two staff members were immediately suspended after the mistake was discovered earlier this year.
A spokesman for Warrington and Halton Hospitals confirmed they had now been dismissed.
"We have clear and proven procedures for administering blood products in the hospitals which are followed in cases each and every week without incident," the spokesman said.
'Individual error'
"This was an isolated case of individual error caused by not following those procedures."
The patient was informed of the mistake and did not suffer any permanent harm, the spokesman added.
According to the report, the "patient was recovering, but there remained some medical concerns."
The board meeting said the incident had been classed as a 'never event' - a status used by the Department of Health for incidents so serious they should never have happened.
But the hospital later confirmed the status was not used because the patient ultimately came to no harm.