Christophe Borgye: 'Concrete tomb' killer convicted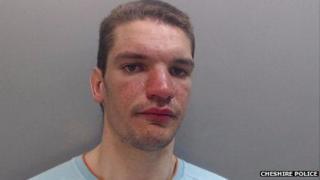 A man who admitted bludgeoning his friend to death with a hammer and burying him in a concrete tomb has been convicted of murder.
Sebastian Bendou, 36, tried to claim diminished responsibility over killing flight attendant Christophe Borgye, 35, in Ellesmere Port in May 2009.
Bendou was convicted at Chester Crown Court on Wednesday and will be sentenced on 15 July.
Dominik Kocher, 35, was also convicted of murder at an earlier hearing.
The jury heard Bendou and friend Kocher killed Mr Borgye in May 2009 and buried him in the outbuilding of the house all three shared with Manuel Wagner in Hylton Court, Ellesmere Port.
Bendou, Kocher and Mr Wagner, who were all French, then left the area and settled in Scotland.
But in May 2013 Bendou contacted Cheshire Police and led officers to the "grisly tomb" of Mr Borgye's body, which was wrapped in tarpaulin and encased in thick concrete.
A post mortem revealed Mr Borgye, who was originally from Ronchen in France and moved to the UK in 2007, died from a series of hammer blows to his head.
'Murky picture'
The prosecution said Kocher was the driving force behind the murder.
Bendou was sectioned under the Mental Health Act after his confession but later classed as fit to stand trial for murder.
Richard Riley, senior prosecutor with the Crown Prosecution Service Mersey-Cheshire, said Kocher had a "strange influence" over the others.
"Borgye and Bendou had their wages paid into Kocher's account and, in return, he seems to have managed their affairs," he said.
"We may never know the reason why Bendou and Kocher killed Mr Borgye on that fateful day - the picture is too murky. But it seems likely that money was at the heart of it."
Mr Wagner, 26, was found not guilty of assisting an offender and preventing a lawful burial.