Hillsborough inquests: Stadium had 'no significant defects'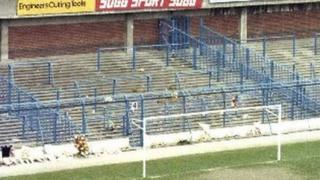 The Hillsborough Stadium had "no significant defects" when it was last inspected 11 months before the disaster, an inquest jury heard.
Sheffield Wednesday's engineering consultants reviewed the ground in May 1988 and deemed it in "satisfactory condition" for "full capacity" use.
Engineering expert John Cutlack agreed the ground's safety advisers should have known about the dangers of crowds.
Ninety-six fans died as a result of the crush at the 1989 FA Cup semi-final.
'Visual inspection'
The inquest in Warrington was told a note was added to the 1988 inspection report carried out by engineering firm Eastwood & Partners which read:
"In my opinion, the various structures of the ground are in satisfactory condition appropriate for the stadium to be used to the full capacity laid down in the Certificate of Ground Safety."
Dr Wilfred Eastwood also added a sentence which said: "I made a visual inspection of all the structural features of the ground and no significant defects were noted."
The Safety at Sports Grounds Act 1975 meant stadia with a capacity of more than 10,000 required a certificate.
Members of the Hillsborough Stadium's safety advisory group, which included organisations such as the fire service and the director of health, also supplied comments to Sheffield City Council.
Sheffield City Council adopted the responsibility for Hillsborough's safety certificate in 1986, when South Yorkshire County Council was dissolved.
Between 1986 and 1989, there were discussions with the safety advisory group about the capacity of parts of Hillsborough and the conditions attached to the safety certificate.
Mr Cutlack, a structural engineer brought in by the inquests as an expert in the design of Hillsborough and its safety, was asked by Jonathan Hough QC, the inquests' junior counsel, if there had been any amendments made to the certificate between 1979, when it was first issued, and 1989.
He said there had been one change to correct a typographical error and a second to permit the visit of the Queen to the stadium.
He was later asked by Michael Mansfield QC, who represents 75 of the Hillsborough families, whether before 1989 it was "well established that there was a potential of crushing British football stadia?"
Mr Cutlack told the jury there were "a number of events" that involved crushing.
Mr Mansfield said: "Those concerned with safety at football stadia should have been aware of that risk, shouldn't they?"
Mr Cutlack responded: "I would think that anybody who was involved in football stadia who was following what was happening, should certainly have been aware of it."
Mr Mansfield later told the jury the stadium had a system to count people through the terraces, but there was no way of knowing where they went from there.
The jury has visited the Hillsborough stadium as part of the inquests proceedings.
The inquests continue.