James Bulger 'ghost' tweets: 62-year-old man arrested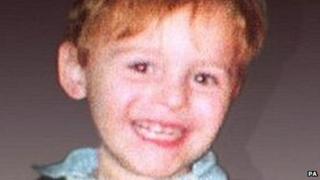 A man has been arrested over tweets purporting to be the "ghost" of murdered toddler James Bulger.
Two-year-old James was killed by Jon Venables and Robert Thompson in 1993.
Sussex Police said a 62-year-old man of Clinch Green Avenue, Bexhill, was arrested on Thursday on suspicion of sending offensive Twitter messages. He has been bailed until 28 August.
Denise Fergus, James Bulger's mother, asked for the "vile person" to be reported on her Twitter account.
A tweet sent to her referred to the anniversary of his death.
Sussex Police said it was working with Merseyside Police, who the tweets were reported to on 20 May.