All six Liberal Democrats lose seats in Liverpool poll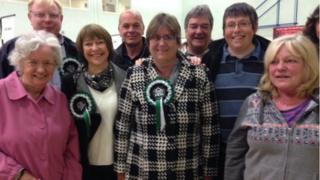 The Liberal Democrats suffered a major defeat in Liverpool with all six candidates losing seats they were defending in the council election.
The Green Party also celebrated more success in Liverpool as well as its first seat on Wirral Council.
While a campaigner fighting to save greenbelt land won a seat on Sefton Council, where Labour retained overall control.
Labour kept control in all of its Merseyside councils.
Maria Bennett, Community Action Not Politics, won Sefton's Ravenmeols ward from Labour's Tom Donnelly with 41% of the vote,
Ms Bennett, is a member of Fragoff (Formby Residents Action Group Opposition from Formby) which opposes Sefton Council's local plan.
The Green Party will become the opposition in Liverpool as the party added two more councillors to make four compared to the Lib Dems' three.
The party also won its first seat on Wirral when Pat Cleary took Birkenhead and Tranmere.