Liverpool shooting: Man shot as woman held at knifepoint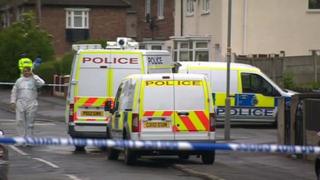 A man was shot in the chest by armed police at a house in Liverpool after a woman was held at knifepoint.
Officers were called to Shellingford Road, Dovecot, at 07:30 BST after witnesses reported seeing a knife held to the woman's throat.
Police stormed the house using smoke bombs and shot a 47-year-old. They said he was believed to be armed with a gun.
The woman was released unharmed. Two children, aged seven and 11, escaped safely before police arrived.
The man was taken to the Royal Liverpool University Hospital where his condition was described as "serious but stable".
His injuries are not thought to be life-threatening.
The woman, believed to be in her 20s and known to the man, was given first aid at the scene by paramedics.
Neighbour Craig Chadwick said he saw armed police "move in with all the shooting".
Merseyside Police said no officers had been injured.
'Horrible'
Mr Chadwick said he had heard a police negotiator "trying to calm him down, but he was shaking his head at them".
He said the moment armed officers entered the house was "horrible".
"They had to throw [smoke] bombs into the house and then an ambulance came about half an hour later."
The Independent Police Complaints Commission (IPCC) said it had declared an independent investigation.
Assistant Chief Constable Darren Martland said the force would cooperate fully with the inquiry.
Neighbour Jenni Hurley told BBC Radio Merseyside that when she woke at about 07:30 BST, "there were all police cars in my street".
"You could see everything. We could see the riot vans and they started putting the police tape up.
"At 08:30, we heard the gunshots then. It was about five or six - it went on for a while."
She said she was unsure whether the shots had come from inside or outside the house.
A police spokesman said a firearm and knives were recovered from the property and would be sent off for examination.
The scene remains cordoned off and the property is being searched and examined.