Two men abscond from open prison in Cheshire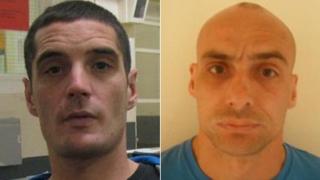 Police are hunting for two men who absconded from an open prison in Cheshire.
Anthony Peloe, 43, and John Arnold, 30, were found to be missing from Thorn Cross open prison in Warrington at about 10:30 BST on Tuesday.
Peloe was convicted of possessing firearms in 2005 and Arnold was jailed in 2006 for robbery. Both were given indeterminate sentences.
A spokesman for Cheshire Constabulary urged the public not to approach them.
Peloe is described as white, 5ft 8ins and of "proportionate build", with brown hair and blue eyes, while Arnold is said to be white, 5ft 11ins and of slim build, with brown hair and eyes.
Peloe was sentenced to three years and Arnold was jailed for two years, but their indeterminate sentences meant the pair had no automatic right of release once they had served their time in prison.
'One a fortnight'
Supt Martin Cleworth said officers were "making every effort to locate these two men including liaising with colleagues in other forces".
"They may be travelling together or separately," he said.
"My advice to any member of the public who sees them is not to approach them, but to immediately ring police."
David Mowat, Conservative MP for Warrington South, said: "Absconders at the level of one a fortnight brings into question the criteria that are being used to move people into open prisons.
"It's clearly not being done tightly enough, if this continues it raises the need for more security at Thorn Cross than is currently there."
According to the Ministry of Justice, Thorn Cross is a purpose-built institution which opened in 1985 on the site of a former Royal Naval Air Station.
It houses 321 prisoners, each of whom has their own key and have less than two years of their sentence left to serve.