Liverpool civil servant 'linked to Hillsborough abuse'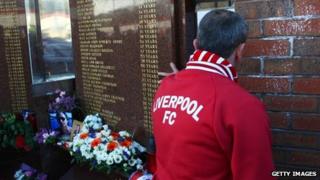 The Cabinet Office is investigating claims a Liverpool civil servant may have posted "sickening" Hillsborough insults on Wikipedia.
The Daily Telegraph claims to have discovered the employee's likely involvement in the abusive online posts.
An inquiry was launched in April after disparaging comments were allegedly made by users on Whitehall machines.
The posts included the phrase "Blame Liverpool fans".
Earlier this month the Cabinet Office described the posts as "sickening", but said the length of time since the edits - made in 2009 and 2012 - would make it very difficult to identify the offending civil servants.
However, Andy Burnham MP, the Hillsborough supporter overseeing the inquiry, said the investigation had now "narrowed."
At least one civil servant in Merseyside is believed to have been interviewed by the Cabinet Office, according to the Telegraph report.
'Leads have emerged'
Mr Burnham said: "I am satisfied that everything that should be done, is being done.
"The investigation is at a fairly advanced stage. I thought there may be a simple technological solution and it has proved to be more difficult than that, but leads have emerged.
"They are no longer just sifting the haystack, there is now more focus to the investigation and it has narrowed."
Kevin Robinson, one of the founders of the Hillsborough Justice Campaign, said: "It is deplorable, whoever was responsible for the comments.
"But to think it could have been somebody from Merseyside, who must know what the feelings are of people and the community as a whole, is outrageous to contemplate."
A Cabinet Office spokeswoman said: "Once we have the facts, the Minister for the Cabinet Office will update Parliament with the findings and consider further appropriate action.
"It would not be appropriate to comment further whilst this investigation is ongoing."