James Bulger 'ghost' tweets investigated by police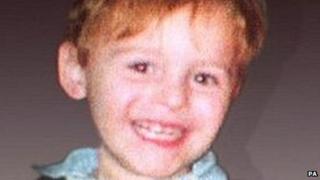 Tweets sent by a Twitter user purporting to be the "ghost" of murdered toddler James Bulger are being investigated by Merseyside Police.
The force confirmed "potentially offensive tweets" were brought to its attention on Tuesday, with inquiries now being carried out.
Two-year-old James was killed by Jon Venables and Robert Thompson in 1993.
Denise Fergus, James Bulger's mother, asked for the "vile person" to be reported on her Twitter account.
A tweet sent to her referred to the anniversary of his death.