Chester teenager jailed for 14 years after homophobic attack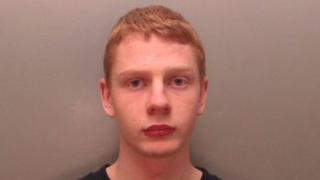 A teenager has been jailed for 14 years after stabbing a man in a homophobic attack.
Floyd Evans, 19, attacked Francisco Nascimento - piercing an artery in his heart - on the city walls in Chester.
The 35-year-old office cleaner was set upon by Evans in a known meeting place for the gay community, Chester Crown Court heard.
Evans was cleared of attempted murder but found guilty of wounding with intent to cause grievous bodily harm.
Judge Elgan Edwards, Recorder of Chester, said he was satisfied Evans, who admitted earlier drinking and taking drugs, carried out the attack because he believed Mr Nascimento was gay.
The judge said he had increased the sentence because of this.
The court heard the victim had been on his way home before spotting a friend on the walls, on 21 October.
'Grateful I'm alive'
As they were talking, Evans, of Stanley Street, Chester, approached and started talking to the victim's friend.
He then lunged forward and stabbed Mr Nascimento before walking away, leaving him fighting for life.
A police officer kept pressure on the wound until paramedics arrived and took Mr Nascimento to hospital, where he underwent surgery.
Evans was captured on CCTV both before and after the stabbing and was later arrested.
Speaking after the sentencing, Mr Nascimento said: "I hope Floyd Evans realises that he could have been facing a murder charge had it not been for the life-saving skills of the police, paramedics and surgeons.
"I will never forget the incident and will always have the scars, but I am also very grateful to still be alive."
Richard Riley, a senior Crown prosecutor with Mersey-Cheshire Crown Prosecution Service, said: "We have always believed that Evans stabbed Mr Nascimento because he thought he was gay and that Evans went to that part of the city for that very reason.
"Evans is clearly a violent man, quite possibly harbouring sinister feelings towards certain sections of our community."