Liverpool giants: Memories of August 1914 joined by grandmother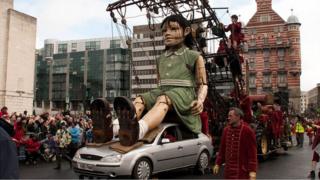 The "Grandmother of Liverpool" will join a parade of giants to commemorate the outbreak of World War One.
The giant will make an international debut at July's Memories of August 1914, alongside the Little Girl Giant and her dog Xolo.
Jean Luc Courcoult, founder of French creators Royal de Luxe, said the "feisty and loveable character [has] some surprises up her sleeve".
Mayor Joe Anderson said its inclusion was a "massive coup and huge honour".
A city council spokesman said the giant would be on public view before the parade at St George's Hall "where she will be sleeping".
'Cheeky humour'
He said that due to the journey "through time from the past, it will take a couple of days before she is ready to explore the city".
"In the meantime, she will rest in the beautiful surroundings of the Great Hall."
Mr Anderson said the figure brought "a whole different dimension to the event".
"We know she will be a real character that will bring out a mixture of emotions in the visitors descending on the city.
"It's extra special to have the St George's Hall element - it is the perfect opportunity for people to see one of our visitors up close and take in how beautifully intricate the work of Royal de Luxe is."
Mr Courcoult said French and Liverpudlian grandparents had "a huge amount in common - they like to talk about the past and tell family stories to keep them alive".
"Add to this sentimentality a cheeky sense of humour and you've got the makings of a great story to be told."
The event, which runs from 23 to 27 July, comes two years after a Titanic-inspired show called Sea Odyssey, which saw the little girl and her dog search the city for her uncle.