People explore Liverpool for LightNight 2014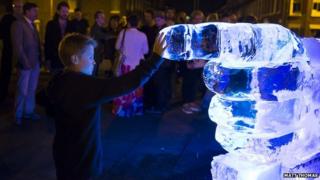 Thousands of people have wandered the streets of Liverpool city centre as part of LightNight 2014.
The free festival of arts and culture, which is in its fifth year, saw 130 events and performances from artists, dance groups and musicians.
Christina Grogan, producer of the event, described it as the "biggest and best LightNight yet".
She said: "It gives Liverpool a chance to show off its creative flair and its brilliant cultural offer".
Several of the events were themed around the centenary of the outbreak of World War One.
The Oratory, a temple of remembrance at Liverpool Anglican Cathedral, was illuminated by candles and lanterns to acknowledge those who gave their lives during the conflict.
Inside Liverpool Anglican Cathedral, choristers performed alongside rock musicians in a collaboration with Liverpool International Festival Of Psychedelia.
Elsewhere, light projections lit up the Bluecoat, on School Lane. The event was accompanied by the voice of David Charters, the Bard of Birkenhead, who read his play 'A Dream of Wildfred Owen'.
The event is funded by Arts Council England and Liverpool City Council.
LightNight is part of Museums at Night, a national after-hours festival of arts, culture and heritage.