Actor Ricky Tomlinson to be given Freedom of Liverpool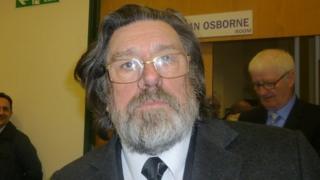 Actor and comedian Ricky Tomlinson is to be awarded the Freedom of Liverpool, it has been announced.
Liverpool City Council said it was to mark the 74-year-old's charity and philanthropic work.
Tomlinson, star of the Royle Family, Brookside and Cracker, said he was "pleased as punch" at the news.
He said: "There can be no better feeling than being honoured by a place that you love to your bones, and I am literally bursting with pride."
A ceremony will take place later in the year to present him with the Freedom scroll.
Mayor of Liverpool Joe Anderson said he "couldn't think of many people more deserving".
Shrewsbury 24
He said: "As well as entertaining the nation as a versatile and talented actor, he has raised and donated millions of pounds to good causes and campaigned to raise the profile of hugely important issues ranging from Hillsborough to human rights.
"He embodies the very best attributes of the city - hugely passionate, opinionated and willing to speak up for and defend those who don't have a voice."
In 1973, Tomlinson served 16 months of a two-year jail sentence after being accused of violent picketing and intimidating behaviour during a building workers' strike.
He was among several men put on trial in Shrewsbury after being charged under the 1875 Conspiracy Act.
Tomlinson has recently been a part of the Shrewsbury 24 campaign, which is pushing for convictions against 24 men to be quashed.
In January, MPs voted to urge the government to release the papers, but a decision not to disclose documents about the case on national security grounds will not be reviewed until 2015.