Aintree University Hospital Trust improves after warning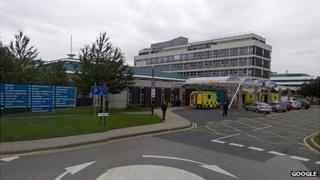 A Liverpool care provider which had been issued with a formal warning in December after failing to meet three out of seven national standards has now been rated as "good".
The Care Quality Commission (CQC) had been "disappointed" with quality and safety at University Hospital Aintree.
But a March inspection found Aintree University Hospital NHS Foundation Trust had made "significant progress".
The CQC's Prof Sir Mike Richards said the trust had "clearly worked hard".
Inspectors previously assessed the hospital over three days in September and found delays in admitting patients due to a lack of bed space, patients with dementia not being properly assessed and unsatisfactory complaint and safety monitoring systems.
'Work to do'
Sir Mike said: "In the past, the CQC has taken action against Aintree University Hospital NHS Foundation Trust because we weren't satisfied that it was properly monitoring and assessing the quality of its services.
"It is encouraging to report that the trust has made significant progress to address those concerns - although there is still some work to do for the trust to get to the bottom of the discrepancies in its mortality data."
Catherine Beardshaw, the trust's chief executive, said: "We do a huge amount of work to gather honest feedback from our patients and staff.
"We will use the CQC's report and our quality strategy to ensure we are able to get it right for every patient, every time."