Runcorn mayonnaise firm fined over forklift death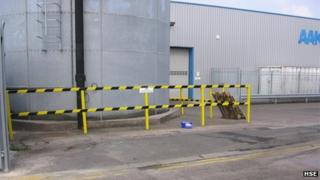 A mayonnaise manufacturer has been fined £140,000 after a forklift truck driver was killed in a collision.
Michael Moran was loading tubs of the product on to a lorry trailer outside AAK UK's Runcorn factory when another lorry reversed into his vehicle.
The forklift overturned, instantly killing the 49-year-old father-of-one, Liverpool Crown Court heard.
The company, based at King George Dock, Hull, admitted breaching the Health and Safety at Work Act.
The court heard on Thursday how Mr Moran, from Warrington, had shouted out as the lorry began to reverse.
The driver applied his brakes but it was too late.
'Dangerous system'
A Health and Safety Executive (HSE) investigation found forklift truck drivers had regularly driven on to a public road to load lorries, without the company putting safety measures in place.
The company had not carried out an adequate assessment of the risks to drivers using the "goods out" area, the court heard.
Drivers were also not given any information or training on how to load lorry trailers safely, and there was poor supervision.
Speaking after the hearing, HSE inspector Deborah Walker said: "Our investigation revealed a chaotic and dangerous system, and sadly it was entirely foreseeable that someone was at risk of being badly injured or killed."
The factory, at Astmoor Industrial Estate, had since put adequate safety measures in place, the court heard.
The firm was ordered to pay £22,657 in prosecution costs.