Liverpool raids see nine arrested over £116k ticket fraud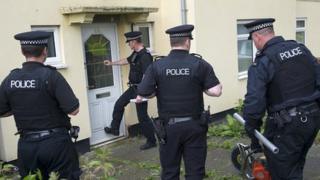 Nine people have been arrested over a bogus internet ticket scam in a series of dawn raids across Merseyside.
The suspects were held as part of an investigation into the £116,000 sale of fraudulent tickets for sporting and music events.
Events include shows by the bands Arctic Monkeys, Arcade Fire, and Liverpool and Manchester United football matches.
Police believe as many as 850 people fell victim to the scam.
Officers targeted 12 properties in Clubmoor, Dovecot, Fazakerley, Anfield, Wavertree, Kensington and Garston.
'Powerful message'
Six men, aged 22, 24, 24, 27, 27 and 30, and three women, aged 23, 28 and 37, have been arrested on suspicion of offences including money laundering, fraud and possession of a controlled drug.
They were taken to police stations across Merseyside for questioning, while officers searched their homes.
Det Supt Richard Carr said: "Today's operation sends out a powerful message to those intent on stealing from the public in this way.
"They cannot hide behind the anonymity of the internet and they will eventually be caught.
"Unfortunately, we have seen a rise in reports of incidents of fraudulent concert or event tickets being sold on unregulated websites."