Teenagers guilty of Liverpool launderette murder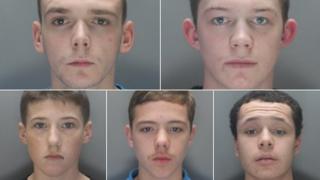 Five teenagers, some as young as 14, have been found guilty of murdering a 19-year-old man in a Liverpool launderette.
Sean McHugh was stabbed with a "sword stick" at the Anfield launderette on 30 September last year.
Reese O'Shaughnessy, 19, Andrew Hewitt, 15, Keyfer Dykstra, Corey Hewitt and Joseph McGill, all 14, were found guilty of murder on Wednesday.
A sixth boy, aged 15, was found not guilty at Liverpool Crown Court.
During a trial lasting almost two months, the court heard the teenagers were part of a gang known as the "Laneheads".
The jury was told how the gang sought out Mr McHugh because he had attacked one of their friends.
The victim, of Beckett Street, Liverpool, was cornered at the Priory Road launderette at around 19:00 BST as he was doing his washing. He took refuge in a locked back room having been chased by the group.
Armed with knives and the makeshift sword stick, described as similar to a broom handle but with a blade attached, the gang then forced the back door to the room where Mr McHugh was hiding and attacked him.
He was beaten and stabbed before the gang ran out, watched by the terrified launderette attendant and a passer-by, the court heard.
Mr McHugh managed to escape and was later found in an alleyway. He had been stabbed in the groin and died a few days later in hospital after losing blood.
Det Ch Insp Andy O'Connor said: "Since the attack, none of the five has shown any remorse for what they did to Sean and for the taking a young man's life.
"They have even laughed and joked in the dock at court despite being charged with such a serious offence."
The teenagers will be sentenced on 2 July.