Rhys Jones murder: Gang member can return to Croxteth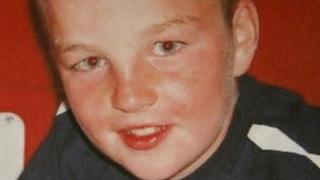 The parents of a murdered schoolboy have lost an appeal to stop one of the gang who helped his killer visiting his sick mother who lives nearby.
An exclusion zone meant Melvin Coy had not been allowed to return to Croxteth, Liverpool, where Rhys Jones, 11, was shot in August 2007.
The probation service said licence conditions, including exclusion zones, could be relaxed in some circumstances.
Rhys's father Stephen Jones said the decision was "absolutely ridiculous".
'Compelling reason'
He said: "We knew there would be a day when these offenders would be released back into the community and we thought the sanctions that were put in place would see out the course of their sentence.
"It seems absolutely ridiculous that they can come up with some sort of story and it's OK to let them back on to the estate."
A Probation Service spokesperson said: "Serious offenders on licence are subject to strict conditions, any breach of these can lead to the offender being recalled to prison.
"Offenders who have served determinate sentences have their licence conditions, including exclusion zones, set by the governor of the releasing prison.
"In exceptional cases an offender may be given permission by his supervising officer to enter an exclusion zone, following a risk assessment, for a short period, if there is a compelling reason."
Sean Mercer was 16 when he shot Rhys Jones dead outside the Fir Tree pub in August 2007, as the schoolboy walked back to his home from football practice.
Mercer was shooting at members of the rival Norris Green gang when one of the bullets hit Rhys in the neck.
Mercer was jailed for life in 2008 and told he would serve a minimum 22 years.
Coy was jailed for seven years for helping him by destroying evidence.
He served half his sentence before being released on licence.