William Owen jailed for life for murdering daughter and partner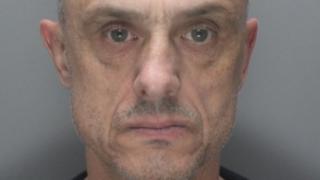 A man has been jailed for life for beating to death his partner and disabled daughter in Merseyside.
William Owen, 55, had been due to go on trial on Wednesday but pleaded guilty to the murders at the last minute.
Sharon Hayter, 54, and 29-year-old Stephanie Owen were found with head injuries at the family home on Home Farm Road, Knowsley, in November.
At Liverpool Crown Court, Owen was ordered to serve a minimum of 23 years and six weeks.
'Sickening lies'
On sentencing, Mrs Justice Carr told Owen: "You [will] leave prison, if you do, an elderly man."
She described the murders as "vicious" and "severe".
Mrs Justice Carr said: "This was a double murder carried out on two women in their home where they were entitled to feel and should have been safe."
The court heard the murder weapon had never been found, but forensic evidence indicated the injuries were consistent with having been caused by blows from a hammer.
Gary Simpson, from the Crown Prosecution Service, said the reason for the killings could remain a mystery for ever.
The court heard the couple, who had been together 30 years, had a stormy relationship but Owen claimed to be devoted to his daughter, who had learning difficulties.
After sentencing, the siblings of Ms Hayter said they would "never forgive or forget the senseless and brutal murder of Sharon and Stephanie".
They said although Owen finally admitted his guilt, he had tried to blame their sister for killing Stephanie.
In a statement they said: "Everyone who knew Sharon was sickened by his cowardly and outrageous lies.
"Sharon was a kind and generous woman who would always put others first and devoted her life to the care and wellbeing of her daughter Stephanie.
"Stephanie was a young, beautiful woman, who loved to sing and play music."
The family added: "They will be greatly missed by all who knew them."